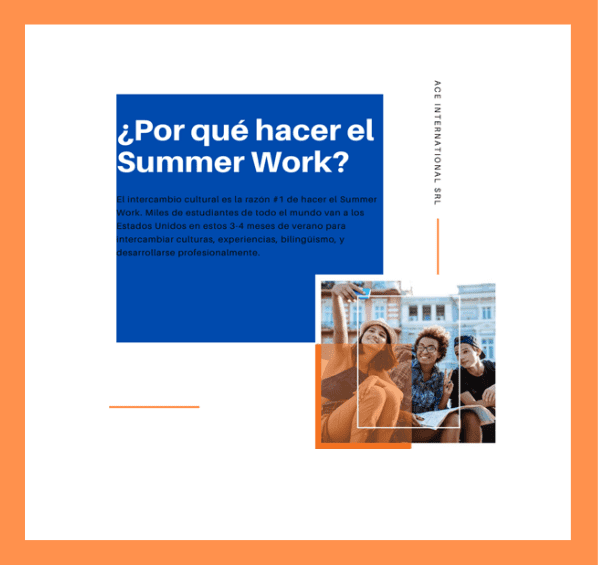 ---
¿Qué es el Summer Work and Travel?
El Summer Work and Travel es un programa de intercambio cultural y laboral diseñado por el Departamento de Estados de los Estados Unidos que brinda la oportunidad a jóvenes universitarios de visitar, conocer, aprender e intercambiar culturas.. La duración del programa va de 3 a 4 meses y se realiza durante las vacaciones de verano.
Requisitos para hacer el Summer Work by Ace
Ser universitario activo.

Tener de 17 a 26 años. 

Be between 18 to 26 years old

No estar en proceso de residencia Norteamericana.
¿Por qué el Summer Work/Travel?
Razón #1✅
El intercambio cultural es la razón #1 de hacer el Summer Work. Miles (por no decir millones) de estudiantes de todo el mundo van a los Estados Unidos en estos 3-4 meses de verano para intercambiar culturas, experiencias, bilingüismo, y desarrollarse profesionalmente.
Razón #2✅
Estudiar el idioma inglés dentro de nuestra isla es una excelente decisión para expandir nuestro conocimiento lingüístico; sin embargo, viajar a los Estados Unidos e intercambios ideas, opiniones, y pasiones con diferentes personas de todo el mundo, catapultará tus horizontes en ese idioma.
Razón # 3.✅
Independencia Social es otra de las razones para hacer este intercambio cultural. Pero, ¿Qué es la independencia social? Se trata del crecimiento como individuo capaz de entender las destrezas y debilidades de sí mismo al verse en el espejo donde las decisiones corren por su cuenta. En el Summer Work Travel de los Estados Unidos, los estudiantes son sus guardianes y sus tutores, se proveen su techo, comida, y destino social.
Amplia estas y otras informaciones en nuestro canal de YouTube: Ace International Summer TV.